Policies & PTSO
Policies & PTSO
Panda Masks and Popcorn
A huge THANK YOU to everyone who ordered masks and popcorn! We sold almost 90 masks and 120 bags of popcorn! If you ordered, please remember to pick up at the school west parking lot on Friday, February 12 from 11:30am-12:30pm, or email us to make arrangements.
Food Fundraisers
Chipotle Mexican Grill eat-out event on Wednesday, February 24th 4:00-8:00pm. Chipotle on 3600 Coors Blvd NW. Show flyer to give us credit.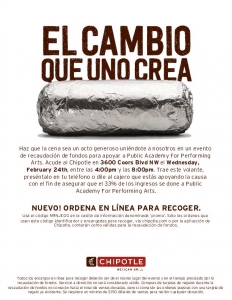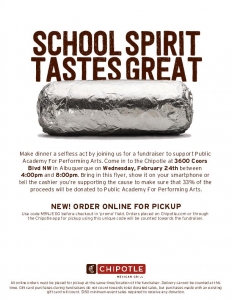 Next PTSO Meeting
Our next PTSO meeting is Thursday, February 11 from 3:30-4:30pm on Zoom.
Meeting ID: 816 7247 0951
Passcode: panda
Meeting Information
The PTSO meets the 1st or 2nd Thursday of the month from 3:30 to 4:30pm via ZOOM. For more information, email papaabq@yahoo.com.
Box Tops and Amazon Smile
Looking for easy ways to help? Download the Box Tops for Education App on your phone.  Also, you can sign up for Amazon Smile and choose the Papa PTSO as your charity recipient.
Website: sites.google.com/view/papaptso
---