YouthCHAT
PAPA Theatre is proud to announce that we've received another grant from The New Mexico Department of Health's Office of School & Adolescent Health (OSAH) for YouthCHAT. This is our 6th year of YouthCHAT and we are the only school in the State of New Mexico who was selected for this program!
YouthCHAT empowers PAPA youth actors/teachers to help primary care and behavioral/mental health care providers learn effective communication skillsfor adolescent care, especially on sensitive issues like sexuality, sexual health, substance abuse, depression and suicidality. This interactive training gives providers hands on experience with adolescents.
PAPA YouthCHAT collaborates with PAPA Film & Media to create YouthCHAT training videos that will be shared with behavioral/mental health care providers at upcoming conferences.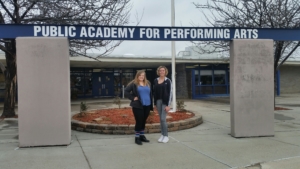 Also, new this year: YouthCHAT Ambassadors! Dominique (Niqui) Marquez and Matilda Yatsco were selected as YouthCHAT Ambassadors and will be attending workshops to promote their performing art (acting) and their skills as Youth Health Literacy experts. The will be sharing Youth Health Literacy techniques at a Town hall Event for Young Parents in March.
PAPA's YouthCHAT team includes Dayana Diaz, Juan Andres Rodriguez, Niqui Marquez, Matilda Yatsco & Syranda Wiley de Navarro.
We will be expanding YouthCHAT in the Spring and would love new team members. If you are interested in acting and making a difference in the lives of New Mexico youth, please contact Ms. Beck for more info.